NEWSLETTER 07/10/2022
Sandfield Energy Warriors
We are all aware of the escalating increase in energy prices and the cost of living which are impacting all of our lives.  At Sandfield we are working hard to reduce the energy we use.  Mrs Grant and the Eco team have been leading the way in introducing the big plan to cut back and be mindful of the energy we use at Sandfield.
In the KS2 Assembly, Mrs Grant introduced the need to reduce our energy bills.  In order to achieve this each class has two Eco Monitors that are responsible for shutting doors, making sure the windows are closed and lights are off in rooms not being used.
A poster campaign has also been launched for all pupils to spread the message on how to save energy at Sandfield.  These posters will be displayed across the school and on the Eco team notice board.
News from the ECO Team
This term we are focusing on ways to save electricity!
We know it is important to reduce the amount of electricity we use because we want to keep the school energy bill as low as we can. Mrs Collins would rather the school spends money on books than on rising electricity bills. So…as an Eco Team, we have chosen two Eco Monitors who are responsible for checking the lights are turned off in rooms that are not being used. They have also been reminding people to close doors and windows to stop the heat from escaping.
We have launched a poster competition in KS2 – posters are to encourage people to save electricity. They should be colourful and informative. Each class will have a winning poster in their classroom as a reminder of our pledge to save energy.
The deadline for the competition is next Friday! We are excited to see your posters, good luck everyone.
Annie and George-Marie
Year 6 Eco Team members
Wishing you all a great weekend
Kind regards
Mrs Collins and The Sandfield Team
Children in Celebration Assembly this week were:
Year R: Will be joining us later in the term
Year 1: Zain and Mansan
Year 2: Meabh and Zeph
Year 3: Lucas and Zainab
Year 4: Alveena and Cyrus
Year 5: Sebastian and Amber
Year 6: Joao Vitor and Imogen C.
The school target for this year 2022-2023 has now been set by the Surrey County Council Inclusion Team and is 97%
This week the whole school achieved 96.4%.
NEWS FROM THE INCLUSION TEAM
Courses and Workshops for Parents:  There are lots of courses and workshops on offer to all parents, carers and families this term.  To see what is on offer, please click here>> 
*NEW*Helping to support your Primary Aged Child Manage their Anxiety. 
We are very pleased to be welcoming Nikki Brunton-Smith, Primary Mental Health Worker to our school for a face-to-face parent workshop which will cover:     
exploring

 possible reasons for anxiety in primary age children

  
identifying the common signs of anxiety in primary age children

  
providing different ways you can support your anxious child
The Workshop will be taking place on Thursday 17th November from 9:00am until 10:30am, then Nikki will be around after the session for informal chats if you require further information or would like to discuss the issues raised further.  
Places are limited, if you would like to attend, please complete the booking form here>> 
Reminders
We have produced a useful handout regarding Open Days and Evenings for applying for a place in a Secondary school. Please click here>>
Free Cookery Classes: Open to all parents and carers with children aged 4-11, please click here>>
Many apologies, the link to the Guidance to help you decide if your child is ready to stay home or go out alone was not working last week, please click here>>
Warmth Matters: Surrey Community Action has produced a useful guide to staying warm and healthy and saving money.  For further information, please click here>>
SPORTS FIXTURES AND NEWS AT SANDFIELD
Confirmed Sports Events
Please ensure that consent forms for squad members are completed as soon as possible.  This helps us enormously with planning transport.
Many thanks, Coach Mohammed
Autumn Term Parent-Teacher Meetings:
Tuesday 18th October 2022 (Year R -Year 6)
Wednesday 19th October 2022 (Year R-Year 5 Only)
Thursday 20th October 2022 (Year 6 Only)
These will be held face-to-face in school after school. These meetings will be the ideal time to discuss with your child's classteacher how they are settling in this year, sharing their strengths and talents and also talking through their next steps in learning. Slots are available to sign up to on Studybugs, please see the instructions below to book a place.
How to Book:
Log into Studybugs
At the top of the page, on the left-hand side there are two tabs, click on speak to a teacher. Then click on your child's name (you'll    have to do these same steps for each subsequent children).
It will then bring up a calendar with yellow boxes, you have the option to choose which time you would like with your child's classteacher.
Click on 'book' on the time slot you have chosen and then put your child's name in the box.
The appointment will now be confirmed and a confirmation email sent to you.
Please note that the office are unable to book a lot for you due to GDPR. The booking system for parent-teacher meetings will close on Friday 14th October at 3:00pm.
REMINDERS!
October Half Term Holiday Camp: Sport4Kids will be running the holiday camp during the October Half Term as usual.  All parents of Sandfield Primary School are eligible for an additional 10% OFF our full-priced camps – below is a digital leaflet with details on how to claim this offer and also a direct booking link.
Secondary School Applications:  The deadline for all online applications for Secondary School admissions is Monday 31st October 2022. To make an application please click here>>
Parent-to-School Communication: Please can we remind all our new families to sign up to the Studybugs App as soon as possible so that no-one misses any vital information  We are currently on 96% sign-up, but need 100%!  There is a link on the Parents section of our website.
Please check the calendar at the end of this newsletter for club information and important dates.
MESSAGE FROM THE SANDFIELD PTA

PTA Committee:  We urgently need the following for the Committee for the PTA:
3 Trustees: this is a low-maintenance role which is mostly administrative.
Co-Treasurer: to work alongside Esmat (Cyrus's and Lockhart's mum).
Secretary: mainly administrative, minute taking etc.
Please let Mrs Collins know if you would like to discuss any of these vital roles further or would like to volunteer!
Sandfield PTA AGM: Thursday 3rd November 2022 at 3:45pm in the school library. All parents and carers are very welcome! If you are interested in any of the above roles or have any other ideas, please email Sandfieldschoolpta@gmail.com, or catch Emma and Nick at school.
Our next Fundraising event is the Comedy Bingo Night on Saturday 15th October!  Please let a member of the PTA or your Class Rep know if you can help set up or clear away, man the bar etc.  Your help is invaluable and we need you!
Harvest Assembly:This year Sandfield will be celebrating Harvest in our Assembly on Wednesday 19th October 2022.
If you can spare any tinned or packet produce for our Harvest celebrations, please bring these into the Learning Lab from Monday until Wednesday. Any fresh produce that you would like to donate needs to be brought in on Wednesday morning. If you would prefer to bring in a posy of dried flowers or corn dolls etc. please also bring these in from Monday.  If your child would like to decorate a shoe box to put donations in, please also bring these in from Monday. The PTA will deliver these donations of food to the needy in our community on Thursday.
Thank you to everyone who is able to bring in any donations.
Christmas Cards and Tea Towels: We apologise for mentioning Christmas so early(!) but we're happy to tell you that this year the children will be designing their own Christmas (or seasonal) cards that you can buy, to send to friends & family. Not only are these very personal (and beautifully designed) but they also raise valuable funds for Sandfield, which are invested back into the children's education and wellbeing.
From Monday 17th October, in school, your children will start designing their own cards. Further information on how to buy the wonderful creations to follow in due course. We hope you will love them!
Many thanks
Sandfield PTA
COMMUNITY NEWS AND EVENTS
NEWS FROM THE CLASSROOMS!
RECEPTION CLASS
This week Reception had their imaginations running wild! We started the week with a spontaneous dressing-up party and spent the entire afternoon in different costumes. It was amazing to see the games and stories unfold as the dinosaurs, knights, kings, princesses, cats, and numerous other characters had their glorious dance party.  
On Wednesday, we had a very special visit from Surrey Police officers – one of them even came to Sandfield as a child! They spoke to us about community safety, showed us the special parts of their uniforms and let each of us sit in the front of a police car. The children absolutely loved it! 
In art, we used our knowledge of body parts and senses to invent our very own superheroes with unique superpowers. In the afternoons, we learnt different ways to join surfaces together through junk modelling. The children helped each other make factories, dragons, puppets and even a spaceship with the recycled goods brought in.  
In literacy, we discussed the meaning of dreams and aspirations. We talked about all of the possibilities and choices we have, as we get older. The children spoke about what they wanted to be when they grew up and drew themselves. Not surprisingly, we have many children who said they wanted to become police officers. Among the rest of our aspirational children, we have future singers, mechanics, motorbike racers, pilots, doctors, chefs, gardeners, artists, vets and teachers.
REMINDER: P.E days for Reception Class is Friday.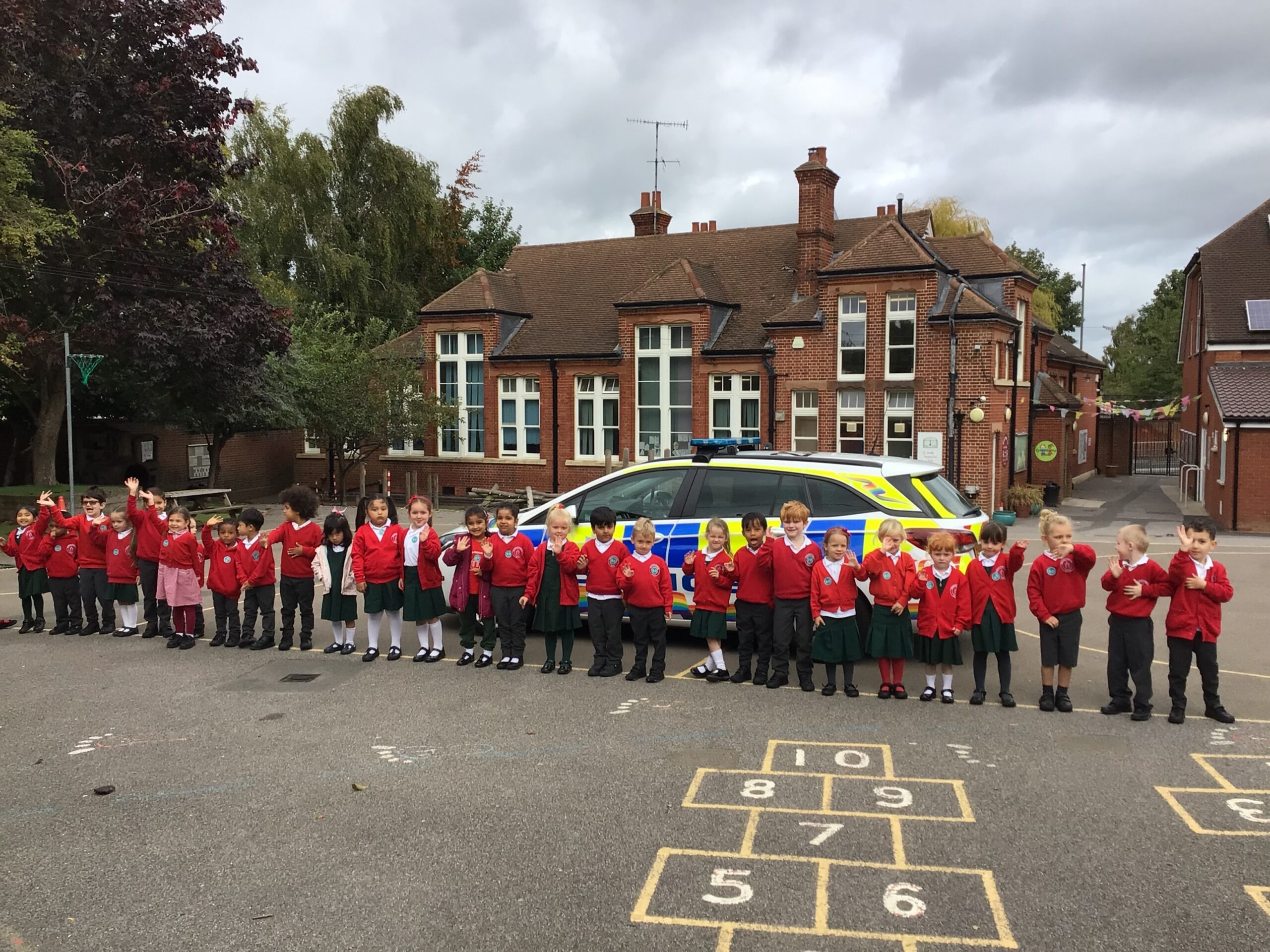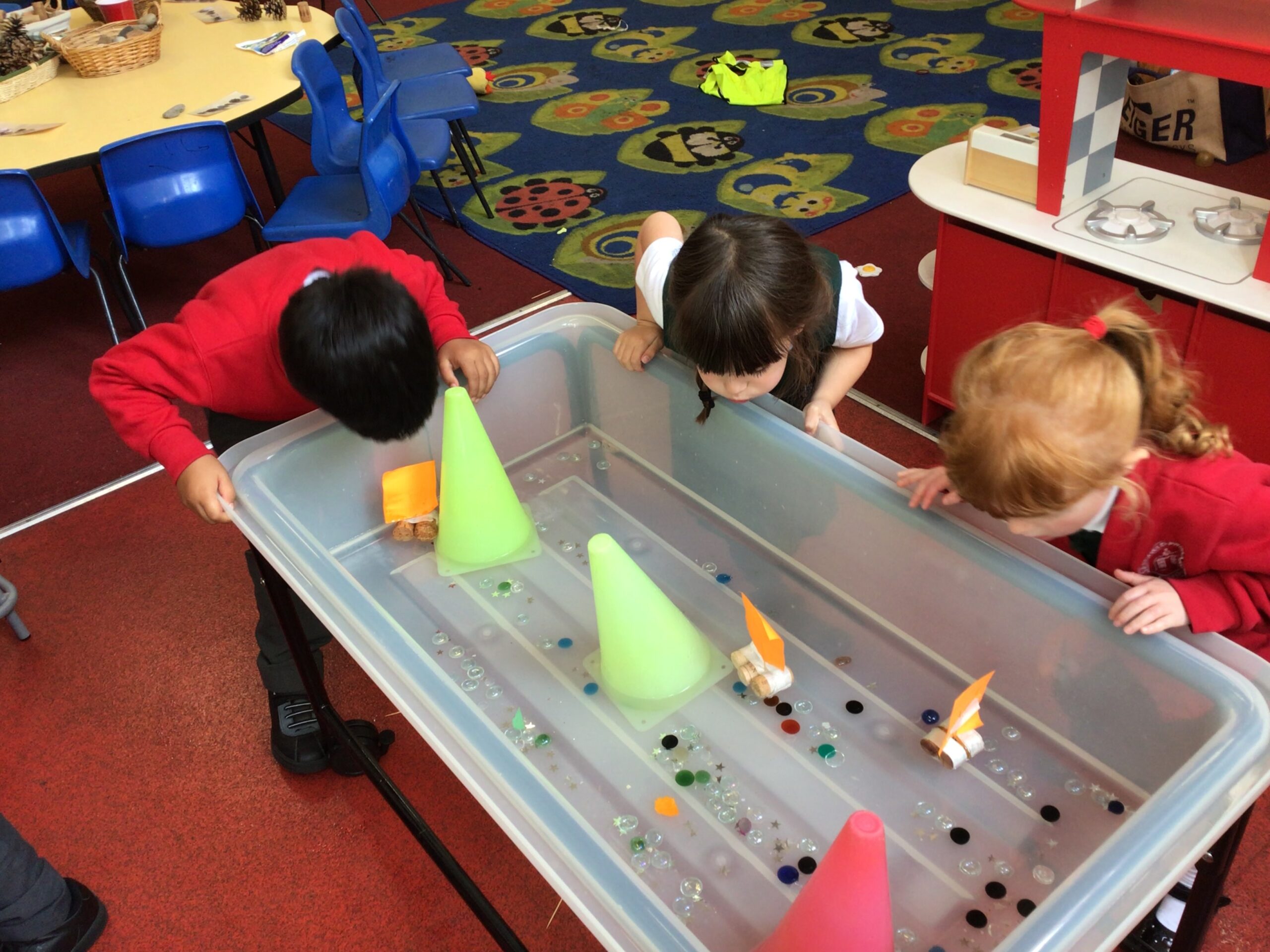 YEAR 1 & YEAR 2
In Year 1 and Year 2, we have been immersed in the world of Alice in Wonderland this week!  We have been making our own potions which has been so exciting. Initially, we wrote our recipe for a potion and then made it and there were lots of aromatic, sparkly gems and scents!  We had so much fun and finished the week by describing our potions and thinking about why Alice might choose our potion.
Year 1 have also enjoyed exploring Forest School and making their leaf crowns, they were fascinated by the number of mini-beasts that they found.
Reminder: PE days for Year 1 is Monday and Year 2 is Tuesday.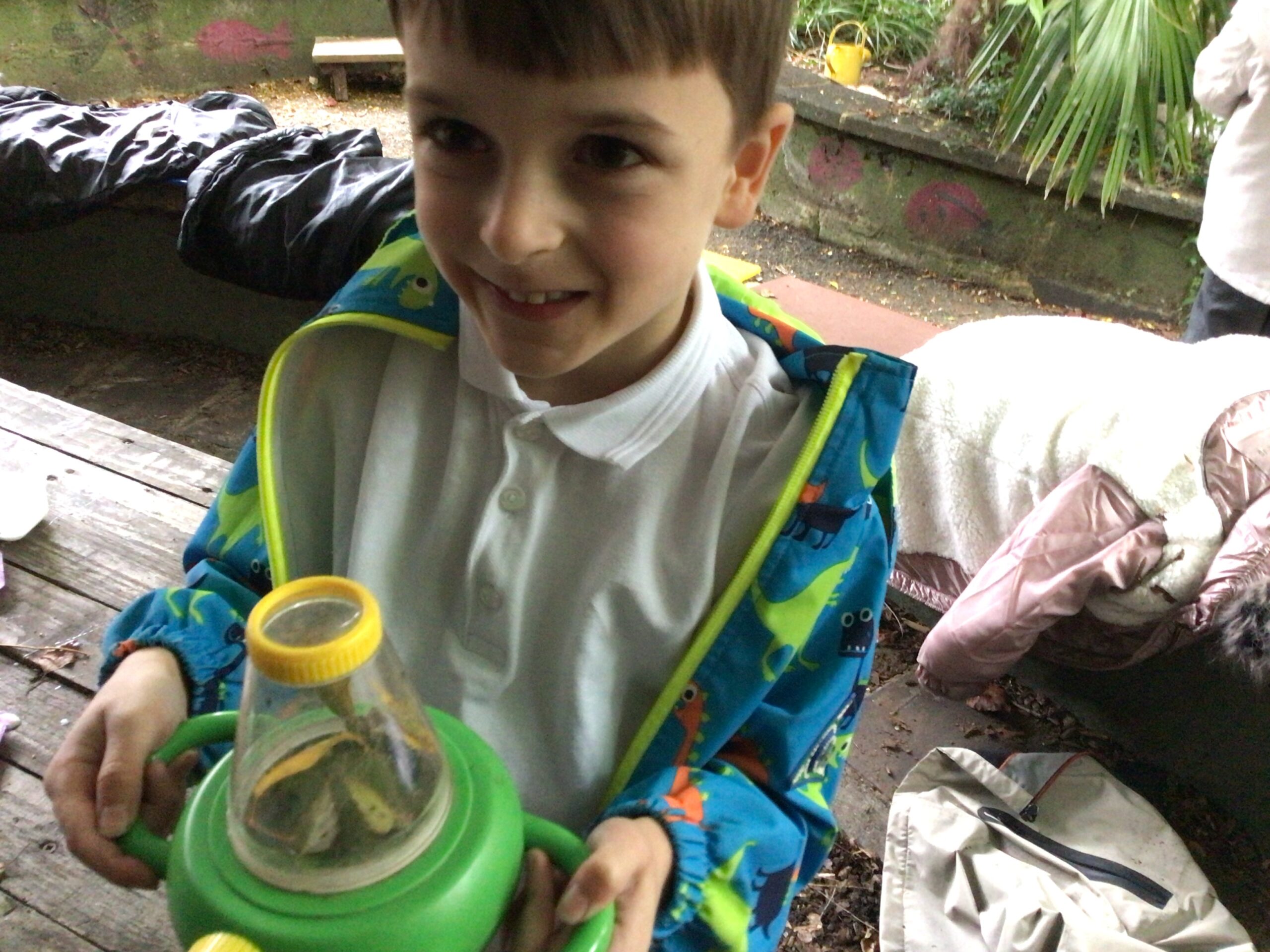 YEAR 3 & YEAR 4
There has been a hive of activity in Year 3 and Year 4 this week! Year 3 have been busy learning about why crosses are an important symbol in Christianity and then showing some fabulous creativity designing and making their own crosses. Their ideas were amazing and they produced some imaginative wooden crosses. Well done Year 3!
Year 4 have been learning all about plants and what they need to grow. Our budding scientists have been predicting and investigating whether or not plants need soil to grow. They have sown radish seeds in different materials to test this and will observe the results. Great work Year 4!
Reminders: PE on Wednesday (outside) & Thursday indoors (shorts and t-shirts will also be needed)
Year 4 String Scheme takes place every Friday, please ensure all instruments are in school.
YEAR 5 & YEAR 6
We thought we would show off some of our awesome maths work this week.  Sorry but no pirates!
The start of the year is always about place value and knowing the true worth of each digit in a number.  Year 5 work up to 1 million and Year 6 to 10 million.  We look at rounding to a given place value.  One of our mantras is…..  5 to 9 – climb the vine!  1 to 4 – stay on the floor!  Year 6 have also been using negative number lines to work out things like temperature drops!
REMINDER: P.E. days for Year 5 is Tuesday and Wednesday and Year 6 is Tuesday & Thursday.
December

2023

Mon
Tue
Wed
Thu
Fri
Sat
Sun

1

Mufti Day - bring wine & chocolates for the fair

Morning Club with Miss Campbell-Bell

Home Club with Planet Soccer

Planet Soccer Creators Club - Years R, 1 & 2

Winter Fair - PTA Event

• • • • •

4

Morning Club with Mrs Donnithorne

Ahora Spanish Club KS2

Home Club with Planet Soccer

Lion Rock Kids - Science Club Years 1 to 4

• • • •

5

Morning Club with Mrs Parker

Christmas Concert _ Year 4 String Scheme End of Term Concert

Home Club with Planet Soccer

Homework Club (Invitation Only)

Planet Soccer - Street Football KS2

Planet Soccer Creators Club - Years R, 1 & 2

RGS Chess Club for KS2

• • • • • • •

6

Morning Club with Mrs March

Home Club with Planet Soccer

Lion Rock Kids - Art & Craft Club Years 1 to 4

Planet Soccer - Dodgeball KS2

Planet Soccer Creators Club - Years R, 1 & 2

• • • • •

7

Morning Club with Mrs Davey

Tae Kwon-Do Club - Years 2 to 6

Rock Steady Music Lessons

Boogie Pumps Dance Club for Years R, 1 & 2

Home Club with Planet Soccer

Planet Soccer - Football - Years 1 & 2

Planet Soccer Creators Club - Years R, 1 & 2

• • • • • • •

8

Morning Club with Miss Campbell-Bell

Year 2 Visiting GHS to see The Snowman

Home Club with Planet Soccer

Planet Soccer Creators Club - Years R, 1 & 2

• • • •

11

Morning Club with Mrs Donnithorne

KS1 Nativity Performance

Ahora Spanish Club KS2

Home Club with Planet Soccer

• • • •

12

Morning Club with Mrs Parker

Home Club with Planet Soccer

Planet Soccer - Street Football KS2

Planet Soccer Creators Club - Years R, 1 & 2

• • • •

13

Christmas Jumper Day

Morning Club with Mrs March

Whole School Christmas Dinner

Home Club with Planet Soccer

Planet Soccer - Dodgeball KS2

Planet Soccer Creators Club - Years R, 1 & 2

• • • • • •

14

Morning Club with Mrs Davey

Tae Kwon-Do Club - Years 2 to 6

KS1 Nativity Performance

Rock Steady Music Lessons

Home Club with Planet Soccer

Planet Soccer - Football - Years 1 & 2

Planet Soccer Creators Club - Years R, 1 & 2

• • • • • • •

15

Morning Club with Miss Campbell-Bell

Home Club with Planet Soccer

Planet Soccer Creators Club - Years R, 1 & 2

• • •

18

Morning Club with Mrs Donnithorne

Home Club with Planet Soccer

• •

19

Morning Club with Mrs Parker

Winter Singalong!

Home Club with Planet Soccer

Planet Soccer Creators Club - Years R, 1 & 2

• • • •

20

End of the Autumn Term Today at 1:30pm

Mufti Day & Christmas Surprise!

Morning Club with Mrs March

• • •

21

Christmas Holidays - School is Closed to All Pupils

Planet Soccer Holiday Camp

• •

22

Christmas Holidays - School is Closed to All Pupils

Planet Soccer Holiday Camp

• •

23

Christmas Holidays - School is Closed to All Pupils

•

24

Christmas Holidays - School is Closed to All Pupils

•

25

Christmas Holidays - School is Closed to All Pupils

•

26

Christmas Holidays - School is Closed to All Pupils

•

27

Christmas Holidays - School is Closed to All Pupils

•

28

Christmas Holidays - School is Closed to All Pupils

•

29

Christmas Holidays - School is Closed to All Pupils

•

30

Christmas Holidays - School is Closed to All Pupils

•

31

Christmas Holidays - School is Closed to All Pupils

•