Well-Being at Sandfield
Well-being of children, their families and staff is very important to Sandfield.  As part of our School Development Plan this year, we have been working on creating a calm space within our school site.  This space is used for meetings between the Inclusion Team and families, Sandfield staff or outside agencies to work with small groups of children or 1:1.  It is also where the Morning Club is based.  It is a very flexible space, with beanbags, sensory lighting, lots of floor space and little furniture.  We have named this space "The Hub", where all are welcome.
For our staff we have re-organised the PPA room (planning, preparation and assessment) for all adults to have a lovely space to work in.  Gone is the clutter and mass of old resources and in is new working spaces and a sense of calm.
Christmas Fair 2022!
This wonderful annual event is fast approaching and to make this happen, the PTA need your help!
Please continue to bring in empty toilet rolls and Wednesday, Jolly Jars and good condition second-hand books.  Friday 2nd December is Mufti Day for wine and chocolates for the Tombolas!
If you can help set up before or clear up after the Fair, please let your Parent Rep know as soon as possible.
Thank you all for your continued support.
Wishing you all a great weekend!
Best wishes
Mrs Collins and The Sandfield Team
Children in Celebration Assembly this week were:
Year R: Isla and Lucas
Year 1: Sophie and Mina
Year 2: Sashant and Connie
Year 3: Harry and Amelia
Year 4: Amba and Suzanna
Year 5: Freddie and Lilly
Year 6: Holly and Ethan
The school target for this year 2022-2023 has been set by the Surrey County Council Inclusion Team and is 97%
This week the whole school achieved 92.6%.
NEWS FROM THE INCLUSION TEAM
Sandfield Padlet – Courses, Workshops and Information for Parents
Our Padlet lists the school's main digital resources and some recommended resources from the Inclusion and Pastoral team. This is aimed at all our parents and carers and is a live platform that staff will continue to update.
There are also lots of courses and workshops on offer to all parents, carers and families.  To see what is available, including free cookery classes and supporting your child with reading from Surrey Family Learning etc. please look at the Sandfield Padlet, there is lots of information available for everyone along with local events!
Click here for information on Community Links and Media at Sandfield
SPORTS FIXTURES AND NEWS AT SANDFIELD
Confirmed Sports Events
Please ensure that consent forms for squad members are completed as soon as possible.  This helps us enormously with planning transport.
Many thanks, Coach Mohammed
Whole School Christmas Dinner Wednesday 14th December 2022!
Christmas at Sandfield is fast approaching and it's that time of the year to order Christmas dinner if your child would like it!
All children in Key Stage 1 receive this as part of the Universal Free School Meal Scheme and if your child is in Key Stage 2, the cost is £2.50.  All meals for all children must be booked via the Aspens website by the deadline of Wednesday 7th December 2022.
Please be aware that Aspens will not accept late bookings for this special meal.
Please check the calendar at the end of this newsletter for club information and important dates.
MESSAGES FROM THE SANDFIELD PTA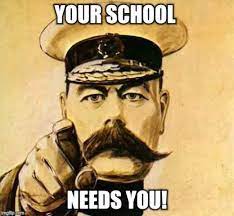 PTA Committee:  We urgently need the following for the Committee for the PTA:
3 Trustees: this is a low-maintenance role which is mostly administrative.
Co-Treasurer: to work alongside Esmat (Cyrus's and Lockhart's mum).
Secretary: mainly administrative, minute taking etc.
Please let Mrs Collins know if you would like to discuss any of these vital roles further or would like to volunteer!
Sandfield PTA AGM: Revised date tbc . All parents and carers are very welcome! If you are interested in any of the above roles or have any other ideas, please email Sandfieldschoolpta@gmail.com, or catch Emma and Nick at school.
Christmas Fair on Saturday 3rd December 2022
The Winter Fair is less than a week away!
We need final raffle donations in soon, so we can advertise them, and add company names to our thank you page.  Please email vouchers to 
SandfieldSchoolpta@gmail.com
 or leave gift donations with the office.
For any questions, get in touch with The Christmas Fair Team through your Year Rep
We still need lots of help organising this very popular event, please let your Class Rep know if you can help.
We still need lots more cakes / food for our Cake or International food stalls, please complete the very short form below:
Food for the International Food Stall
Please can we let all families know that we are not charging an entry fee this year, however, any donations are very welcome and these can be made via Scopay (where you pay for uniform and trips).  Please choose the donation amount you wish from the product list.
Tea Towels
This year's limited edition Sandfield tea towels are on their way. Don't miss your chance to purchase one of these tea towels exclusively designed by your child and their friends!
Tea towels can be ordered through Scopay and are £5 each or £4 each for 3 or more (for example, 3 for £12, 4 for £16). They will be delivered to your child's class once they arrive for them to take home at the end of the day.
We have done our best to make sure as many pupils are included as possible but time available was limited and not all pupils will have been present at the time of the art work. Unfortunately therefore some pupils may not have a portrait on the tea towel so please do check that your child's portrait is on the tea-towel before ordering.  The images were sent home by Studybugs today.
Sincerest apologies for this from Friends of Sandfield
Thanks as always for all of your support!
Christmas Cards
Thank you for supporting our Christmas Card fundraiser this year. We raised £245.87 from sales! None of this would have been possible without the extra support from Standfield's amazing staff and the artistic endeavours of all of our pupils.
Many thanks
Sandfield PTA
RECEPTION CLASS
This week Reception have been busy exploring the composition 5, learnt about other celebrations like Hanukkah and experimented with materials that float and sink. 
The children used linking cubes, then Numicon in paint to make 5s. We began looking at the concept of one more and one less. The children used small construction materials to build 'one more' staircases with blocks, Duplo and other materials. They noticed that when they go up one more each time, the 'steps' on the staircase were even in size.  
Our home corner turned into a café this week. The children eagerly opened up their café, with many servers taking orders and all of the adult's money. Mrs.Phillpot had to spend £800 on a chocolate smoothie, which turned out to actually be 'stinky juice'! The till quickly filled up! Our chefs and baristas put in busy shifts cooking up a storm for all visitors to the café.  
In the water area, there was an experiment: to test out different materials then make a raft or a bridge for 3 Billy Goats Gruff to cross. We found that plastic rafts worked much better than cardboard box rafts. We also found out that lolly-sticks, which are made of wood, could also float, which made them perfect for transporting the Billy goats!
Well done Reception, another busy week!
REMINDER: P.E days for Reception Class is Friday.
Click/tap an image for a gallery view
YEAR 1 & YEAR 2
What an exciting week we have had in KS1!
As a finale to our Alice in Wonderland topic we have been innovating one aspect of the story, as part of this, we had a party games event afternoon . The children experienced being  Alice and attended a different type of party with the key characters from the story, which they then started writing about in their English lessons.
Reminder: PE days for Year 1 is Monday and Year 2 is Tuesday.
Click/tap an image for a gallery view
YEAR 3 & YEAR 4
This week, Year 3 and Year 4 have been working hard consolidating their calculation skills in maths. Both classes are using multiplication to solve problems – keep practicing those tables on TTRs everyone!
Our new writing text is Tales from India. We have found many similarities with traditional stories from Europe – Cinderella, Snow White and Sleeping Beauty as well as fables and moral tales from Aesop. They have written and drawn some great comic strips to summarise the tales we have read so far.
Great work Year 3 and Year 4!
Reminders: PE on Wednesday (outside) & Thursday indoors (shorts and t-shirts will also be needed)
Year 4 String Scheme takes place every Friday, please ensure all instruments are in school.
Click/tap an image for a gallery view
YEAR 5 & YEAR 6
Year 5 and Year 6 have been learning how to input data onto the app numbers this half term.
We used Mr G's stationery shop sales as our starting stimulus and then created formulae to calculate how much was spent and how many items were sold each month!
REMINDER: P.E. days for Year 5 is Tuesday and Wednesday and Year 6 is Tuesday & Thursday.
Click/tap an image for a gallery view
September

2023

Mon
Tue
Wed
Thu
Fri
Sat
Sun

4

INSET Day - School is closed to all pupils

•

5

INSET Day - School is closed to all pupils

•

6

Autumn Term Begins Today for Children in Year 1 to Year 6 Only

Reception Class 2023 Home Visits (1/4)

Morning Club with Mrs March

Home Club with Planet Soccer

• • • •

7

Reception Class 2023 Home Visits (2/4)

Morning Club with Mrs March

Home Club with Planet Soccer

• • •

8

Reception Class 2023 Home Visits (3/4)

Morning Club with Mrs March

Home Club with Planet Soccer

• • •

11

Reception Class 2023 Home Visits (4/4)

Morning Club with Mrs Donnithorne

Home Club with Planet Soccer

• • •

12

Morning Club with Mrs Parker

Reception Class Group A in

Reception Class Group B in

Home Club with Planet Soccer

Planet Soccer - Street Football KS2

• • • • •

13

Morning Club with Mrs March

Reception Class Group A in

Reception Class Group B in

Home Club with Planet Soccer

Planet Soccer - Dodgeball KS2

• • • • •

14

Morning Club with Mrs Davey

Tae Kwon-Do Club - Years 2 to 6

Reception Class in until 12:30pm

Boogie Pumps Dance Club for Years R, 1 & 2

Home Club with Planet Soccer

Planet Soccer - Football - Years 1 & 2

• • • • • •

15

Reception Class in full time from today

Morning Club with Miss Campbell-Bell

Home Club with Planet Soccer

• • •

18

Morning Club with Mrs Donnithorne

Home Club with Planet Soccer

• •

19

Morning Club with Mrs Parker

Year 4 String Scheme

Home Club with Planet Soccer

Homework Club (Invitation Only)

Planet Soccer - Street Football KS2

• • • • •

20

Morning Club with Mrs March

Home Club with Planet Soccer

Planet Soccer - Dodgeball KS2

• • •

21

Morning Club with Mrs Davey

Tae Kwon-Do Club - Years 2 to 6

Year 5 & Year 6 Cross Country Competition-CANCELLED

Boogie Pumps Dance Club for Years R, 1 & 2

Home Club with Planet Soccer

Planet Soccer - Football - Years 1 & 2

• • • • • •

22

Morning Club with Miss Campbell-Bell

Home Club with Planet Soccer

• •

25

Morning Club with Mrs Donnithorne

Home Club with Planet Soccer

• •

26

Morning Club with Mrs Parker

Year 4 String Scheme

Home Club with Planet Soccer

Homework Club (Invitation Only)

Planet Soccer - Street Football KS2

• • • • •

27

Morning Club with Mrs March

Home Club with Planet Soccer

Planet Soccer - Dodgeball KS2

• • •

28

Morning Club with Mrs Davey

Tae Kwon-Do Club - Years 2 to 6

EYFS Parents Information Meeting

Boogie Pumps Dance Club for Years R, 1 & 2

Home Club with Planet Soccer

Planet Soccer - Football - Years 1 & 2

• • • • • •

29

Morning Club with Miss Campbell-Bell

Home Club with Planet Soccer

• •