NEWSLETTER 30/09/2022
MESSAGE FROM MRS COLLINS
SANDFIELD PTA
Every parent and carer is a member of the Sandfield Parent Teacher Association (PTA) when your child joins Sandfield and the committee are always looking for volunteers to help organise or help out at events throughout the year.  As a school, we greatly appreciate all the support our PTA give to the children at Sandfield.  The support really does make a difference.
Our main fundraising events are the Christmas Fair and Sandfest in the summer, however, there are lots of other events planned and this is where you all come in, please let your Class Parent Rep know if you can help at any event.  If you are unsure of who your Rep is,
please click here>>
We have an extremely successful PTA and any money raised goes to increase learning opportunities for every child at Sandfield to benefit from.
The PTA Goals for Fundraising 2022-2023
£2000 enrichment fund for each phase group to spend on the extras to bring their curriculum to life
£2000 to purchase new and exciting books for our library
£500 for a wooden reading throne for the rooftop garden refurbishment
£4000 for the final batch of Ipads for KS2
Coffee Morning
A big thank you to all the parents who attended our PTA coffee morning today and it was great to catch up and welcome new members.  Please see the calendar for future dates!
Comedy Bingo Night!
We are very fortunate to be able to present, live from Sandfield School Hall, the hilarious Jes Moon! If you want an evening of fun and frivolity, book your tickets and your babysitters as soon as possible.
Book your tickets at https://www.paypal.com/paypalme/sandfieldpta
Wishing you all a great weekend
Kind regards
Mrs Collins and The Sandfield Team
CELEBRATION ASSEMBLY
Children in Celebration Assembly this week were:
Year R: Will be joining us later in the term
Year 1: Minahil and Yas
Year 2: Zahra and Connie
Year 3: Felix and Faith
Year 4: Gracie and Jean-Sebastien
Year 5: Twalumba and Olivia D
Year 6: Nadiya and Reuben
ATTENDANCE THIS WEEK
The school target for this year 2022-2023 has now been set by the Surrey County Council Inclusion Team and is 97%
This week the whole school achieved 95.1%
MESSAGE FROM THE OFFICE
School Photos: The school photographer is in on Monday, 3rd October to take individual and sibling photographs of the children.  If your child has PE on Monday they should still wear there PE Kits to school and will have their photos taken in their kits.  You will be sent home a proof of the photo after a few weeks for which you will then be able to place orders online.
**REMINDER** Parent to School Communication: Please can we remind all our new families to sign up to the Studybugs App as soon as possible so that no-one misses any vital information.  There is a link on the Parents section of our website.
October Half Term Holiday Camp: Sport4Kids will be running the holiday camp during the October Half Term as usual.  All parents of Sandfield Primary School are eligible for an additional 10% OFF our full-priced camps – below is a digital leaflet with details on how to claim this offer and also a direct booking link.
Please check the calendar at the end of this newsletter for club information and important dates.
MESSAGE FROM THE SANDFIELD PTA
PTA Committee
We urgently need the following for the Committee for the PTA:
3 Trustees: this is a low-maintenance role which is mostly administrative.
Co-Treasurer: to work alongside Esmat (Cyrus's and Lockhart's mum).
Secretary: mainly administrative, minute taking etc.
Please let Mrs Collins know if you would like to discuss any of these vital roles further or would like to volunteer!
Our next Fundraising event is the Comedy Bingo Night on Saturday 15th October!  Please let a member of the PTA or your Class Rep know if you can help set up or clear away, man the bar etc.  Your help is invaluable and we need you!
Christmas Cards and Tea Towels
Information regarding these will be coming your way very soon!
Thank You!
Please may we take the opportunity to thank Rachel (Leonie's mum) for all the fantastic work that she has done as Co-Chair for our PTA. Her passion and dedication will be sadly missed.
Many thanks
Sandfield PTA
MESSAGE FROM THE SPORTS LEAD
Confirmed Sports Events
Many thanks, Coach Mohammed
COMMUNITY NEWS 
To see what is on offer and for information on what's happening in our Community, please click here>>
NEWS FROM THE CLASSROOMS
RECEPTION CLASS
Another busy week in Reception- from creepy crawlies to delicious citrus soup! Our funky fingers have been working hard at pinching, pulling and sorting minibeasts and pipe cleaner worms to build up strength and stamina for writing.  
In our water tray area, we tried an array of citrus fruits: limes, lemons, oranges, blood oranges, pink and white grapefruit. We described the taste of each one using super adjectives then put them together to make yummy citrus soup. All week, the fresh scent of citrus permeated throughout every room in Reception. 
In maths, we went to the ice cream shop! We practised counting in correspondence to make the right amount of scoops for each cone that was ordered. 
REMINDER: P.E days for Reception Class is Friday.
YEAR 1 & YEAR 2
There has been lots of excitement in KS1 in our RE lessons this week as we have been learning about Christian signs and symbols. The children have enjoyed learning about the meaning of the different symbols, choosing their favourite one and decorating their stones.
Well done Year 1 & Year 2.
Reminder: PE days for Year 1 is Monday and Year 2 is Tuesday.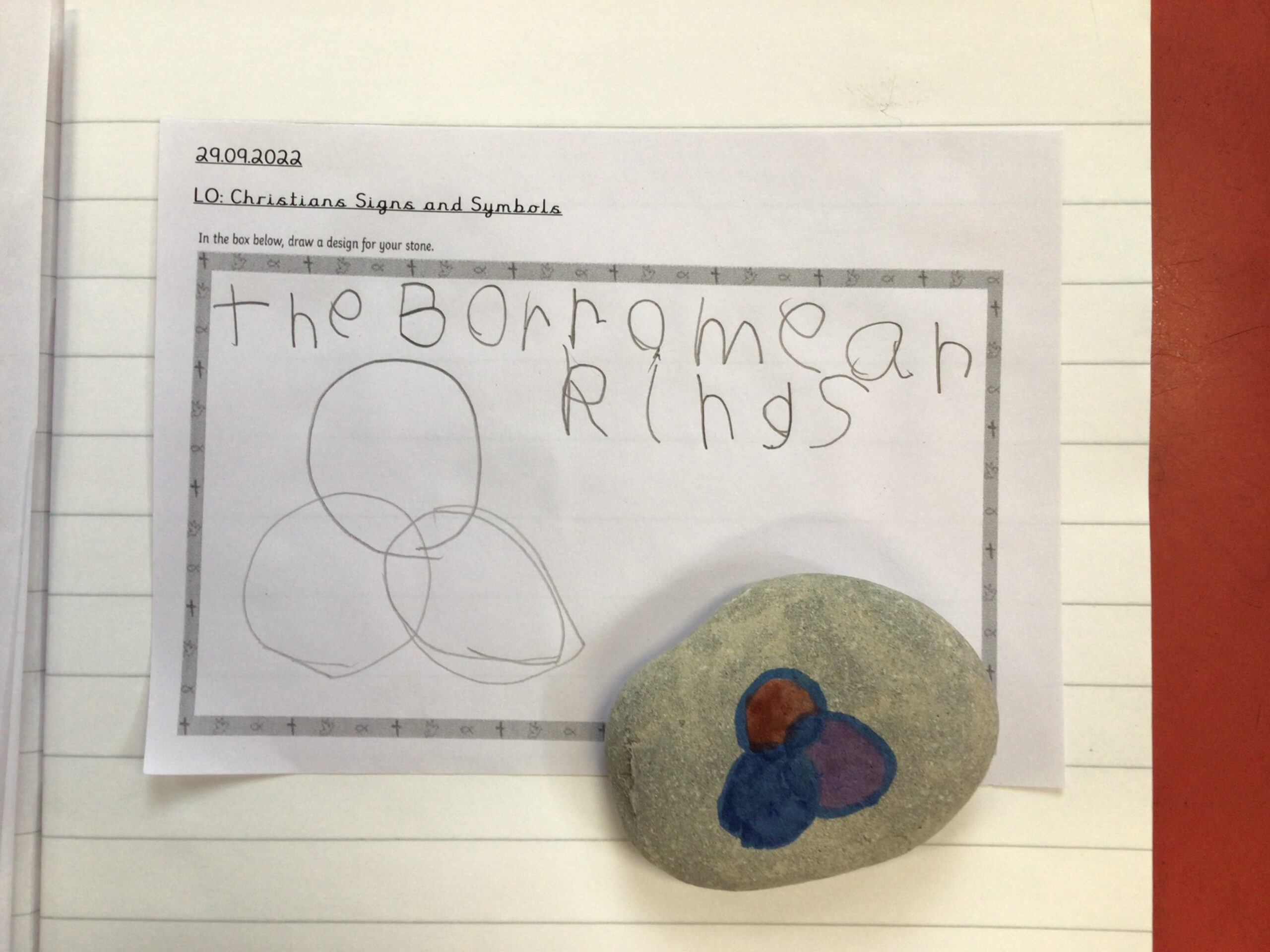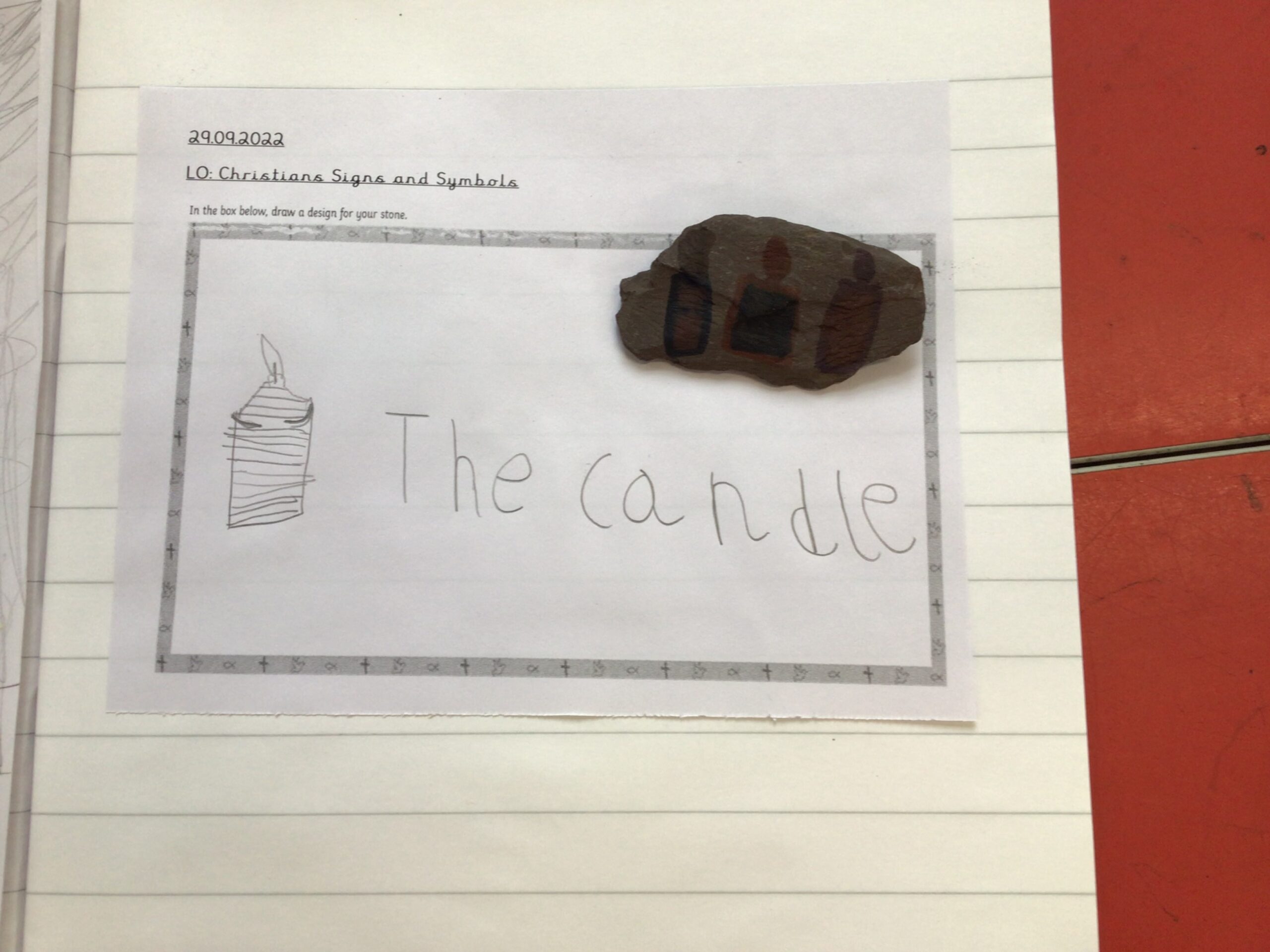 YEAR 3 & YEAR 4
Year 3 and Year showed their amazing writing skills this week with their version of 'Jamil's Clever Cat'. They changed part of the story to make it their own – and we had some great ideas for different animals, different occupations and different endings! You can read their stories on Seesaw along with our suggestions for improvements.
We are looking forward to our new writing unit using 'Cinnamon' by Neil Gaiman as the stimulus.
Art this week focused on printing, using the illustrations from Jamil as inspiration. They did discover that printing can be a messy business (Mrs Dorman now has a lovely multicoloured skirt!) but what great results! These are now ready to use to make a collage of an animal.
Well done Year 3 and Year 4, lovely creative work this week.
Reminders: Please note PE on Wednesday (joggers and hoodies) and indoor PE on Thursday (shorts and t-shirts).
Year 4 String Scheme takes place every Friday (please see the calendar on our website for exact dates), please ensure all instruments are in school.
YEAR 5 & YEAR 6
It's been another busy week in Year 5 and Year 6.  We are writing our diary entry as if we are Jim Hawkins!  Billy Bones has died at our feet and we are recovering from pirates ransacking our little inn.
In other subjects, Mrs Collins has taken on the role of football coach in PE.  There are some super skills and I may have even seen a Cruyff turn when I was on duty in the cage!
Mrs Davey has almost finished the sea shanties and its all 'yo ho ho' whilst they record their own versions!
REMINDER: P.E. days for Year 5 is Tuesday and Wednesday and Year 6 is Tuesday & Thursday.
September

2023

Mon
Tue
Wed
Thu
Fri
Sat
Sun

4

INSET Day - School is closed to all pupils

•

5

INSET Day - School is closed to all pupils

•

6

Autumn Term Begins Today for Children in Year 1 to Year 6 Only

Reception Class 2023 Home Visits (1/4)

Morning Club with Mrs March

Home Club with Planet Soccer

• • • •

7

Reception Class 2023 Home Visits (2/4)

Morning Club with Mrs March

Home Club with Planet Soccer

• • •

8

Reception Class 2023 Home Visits (3/4)

Morning Club with Mrs March

Home Club with Planet Soccer

• • •

11

Reception Class 2023 Home Visits (4/4)

Morning Club with Mrs Donnithorne

Home Club with Planet Soccer

• • •

12

Morning Club with Mrs Parker

Reception Class Group A in

Reception Class Group B in

Home Club with Planet Soccer

Planet Soccer - Street Football KS2

• • • • •

13

Morning Club with Mrs March

Reception Class Group A in

Reception Class Group B in

Home Club with Planet Soccer

Planet Soccer - Dodgeball KS2

• • • • •

14

Morning Club with Mrs Davey

Tae Kwon-Do Club - Years 2 to 6

Reception Class in until 12:30pm

Boogie Pumps Dance Club for Years R, 1 & 2

Home Club with Planet Soccer

Planet Soccer - Football - Years 1 & 2

• • • • • •

15

Reception Class in full time from today

Morning Club with Miss Campbell-Bell

Home Club with Planet Soccer

• • •

18

Morning Club with Mrs Donnithorne

Home Club with Planet Soccer

• •

19

Morning Club with Mrs Parker

Year 4 String Scheme

Home Club with Planet Soccer

Homework Club (Invitation Only)

Planet Soccer - Street Football KS2

• • • • •

20

Morning Club with Mrs March

Home Club with Planet Soccer

Planet Soccer - Dodgeball KS2

• • •

21

Morning Club with Mrs Davey

Tae Kwon-Do Club - Years 2 to 6

Year 5 & Year 6 Cross Country Competition-CANCELLED

Boogie Pumps Dance Club for Years R, 1 & 2

Home Club with Planet Soccer

Planet Soccer - Football - Years 1 & 2

• • • • • •

22

Morning Club with Miss Campbell-Bell

Home Club with Planet Soccer

• •

25

Morning Club with Mrs Donnithorne

Home Club with Planet Soccer

• •

26

Morning Club with Mrs Parker

Year 4 String Scheme

Home Club with Planet Soccer

Homework Club (Invitation Only)

Planet Soccer - Street Football KS2

• • • • •

27

Morning Club with Mrs March

Home Club with Planet Soccer

Planet Soccer - Dodgeball KS2

• • •

28

Morning Club with Mrs Davey

Tae Kwon-Do Club - Years 2 to 6

EYFS Parents Information Meeting

Boogie Pumps Dance Club for Years R, 1 & 2

Home Club with Planet Soccer

Planet Soccer - Football - Years 1 & 2

• • • • • •

29

Morning Club with Miss Campbell-Bell

Home Club with Planet Soccer

• •