Sandfield School Football Success!
Many thanks to Mrs Grant and Coach Mohammed who took our Year 5 & Year 6 Girls Football team to the Tournament at George Abbot yesterday.  To see why we are extremely proud of them all, please read Abeera's match report!
Wow! What a tournament we had!
The team was perfect. The defence was perfect. The goal keeping was perfect. Our teamwork was outstanding and we SMASHED the others; our practise really paid off.
When we arrived and saw the other teams, our nervousness grew. We were anxious but knew if we tried we could be brilliant. Coach Mohammed told us our positions and we discussed tactics. Our first match was against Guildford Grove. We beat them. Twalumba scored the first amazing goal and another fantastic goal scored by Kimberley.
Weyfield were our next opponents and with our amazing team we won easily, a superb score of 3 – 0.
Next, against St. Thomas was harder but in the end it was 0 – 0. Another impressive save by the goalkeeper.
After four games, we came first out of our group, 'the small schools'. In the finals, we faced Northmead, the winners of 'the larger schools'. After a draw of 0 – 0, it went to penalties where Twalumba and Kimberley both scored. Abeera stopped any goals from Northmead – throughout the entire tournament no goals were scored against us.
We came 1st and were so proud of ourselves – every player was fantastic and worked together. We loved it!
GO SANDFIELD!!!!
By Abeera Year 6
Click/tap an image for a gallery view
We were so excited to judge the KS2 Eco Poster Competition! There were so many creative and eye-catching entries to choose from! We finally came to a decision and all agreed on the winning posters below.
One of the winning posters will be on display in each classroom to remind us to save electricity wherever we can. Thank you to everyone who entered, it was such a hard decision to choose just a few posters, as they were all really informative and colourful.
The winners are, Tallulah Year 3, Arlo and Connie Year 4, Rosie and Lubna Year 5 and George-Marie Year 6.
Remember to keep the outside doors closed and keep the warm air inside…
Martha, Amber, Lilly, Rosie and Olivia W – Year 5 Eco Team members.
Reminder!
Please can parents share their views about air pollution and its exposure to children.  The survey will take less than 5 minutes to complete and to complete this short survey, please click here>> Thank you very much.
Wishing you all a great weekend!
Best wishes
Mrs Collins and The Sandfield Team
Children in Celebration Assembly this week were:
Year R: Florence and Zhafran
Year 1: Amira and Crizanne
Year 2: Henry and Holly
Year 3: Lucia and Hanee
Year 4: Alfie and Elodie
Year 5: James and Theo
Year 6: Hector and Honey
The school target for this year 2022-2023 has been set by the Surrey County Council Inclusion Team and is 97%
This week the whole school achieved 90.6%.
NEWS FROM THE INCLUSION TEAM
Sandfield Padlet – Courses, Workshops and Information for Parents
Our Padlet lists the school's main digital resources and some recommended resources from the Inclusion and Pastoral team. This is aimed at all our parents and carers and is a live platform that staff will continue to update.
There are also lots of courses and workshops on offer to all parents, carers and families.  To see what is available, including free cookery classes and supporting your child with reading from Surrey Family Learning etc. please look at the Sandfield Padlet, there is lots of information available for everyone along with local events!
Click here for information on Community Links and Media at Sandfield
SPORTS FIXTURES AND NEWS AT SANDFIELD
Confirmed Sports Events
Please ensure that consent forms for squad members are completed as soon as possible.  This helps us enormously with planning transport.
Many thanks, Coach Mohammed
Whole School Christmas Dinner Wednesday 14th December 2022!
Christmas at Sandfield is fast approaching and it's that time of the year to order Christmas dinner if your child would like it!
All children in Key Stage 1 receive this as part of the Universal Free School Meal Scheme and if your child is in Key Stage 2, the cost is £2.50.  All meals for all children must be booked via the Aspens website by the deadline of Wednesday 7th December 2022.
Please be aware that Aspens will not accept late bookings for this special meal.
School Photographs
The deadline for placing orders is 22/11/2022.  Please note that orders are online only through Simply Portraits.
Are You Interested in Becoming a Teacher?
Please see the information below on how to be included in the next round of SCITT Trainees.
Please check the calendar at the end of this newsletter for club information and important dates.
MESSAGES FROM THE SANDFIELD PTA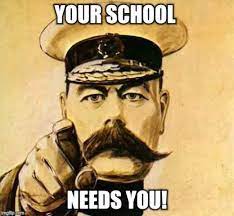 PTA Committee:  We urgently need the following for the Committee for the PTA:
3 Trustees: this is a low-maintenance role which is mostly administrative.
Co-Treasurer: to work alongside Esmat (Cyrus's and Lockhart's mum).
Secretary: mainly administrative, minute taking etc.
Please let Mrs Collins know if you would like to discuss any of these vital roles further or would like to volunteer!
Sandfield PTA AGM: Revised date tbc . All parents and carers are very welcome! If you are interested in any of the above roles or have any other ideas, please email Sandfieldschoolpta@gmail.com, or catch Emma and Nick at school.
Christmas Cards
The Christmas Card store has reopened for final orders and will close on 22/11/2022 at midnight.
Christmas Fair on Saturday 3rd December 2022
We still need lots of help organising this very popular event, please let your Class Rep know if you can help.  If you are able to make any cakes for the cake stall, or food for our International food stall, please complete the very short form below:
Food for the International Food Stall
Please can we let all families know that we are not charging an entry fee this year, however, any donations are very welcome and these can be made via Scopay (where you pay for uniform and trips).  Please choose the donation amount you wish from the product list.
Many thanks
Sandfield PTA
RECEPTION CLASS
This week, we ventured into the world of Goldilocks and the Three Bears. The children acted out the story with their friends in the small world area, practiced letter formations and writing 3 letter words in porridge oats and used tweezers to sort different sized bears to improve our fine motor skills. 
Collaboratively, the children created a variety of water mazes in the water tray using marble run equipment. They were challenged to speak to each other about how they could improve their creations. They loved creating 'theme parks' with their water maze tubes and discovered play with new friends.  
In art, the children explored circles and triangles further by painting Kandinsky style art with watercolours! They used this to practice forming shapes, using a different medium. As they painted, they noticed and identified these shapes within the original Kandinsky paintings on display.  
In the maths area, we focused on the number 5 – counting forwards and backwards using '5' themed nursery rhymes like 5 little ducks, 5 little speckled frogs, 5 little monkeys jumping on the bed etc. They were challenged to create their own '5' themed nursery rhyme as well! We had some very creative songs like '5 little unicorns sweeping the floor' and '5 little sea monkeys swimming in the tank'.  
Speaking of sea monkeys, did you know Reception's new class pets hatched at the beginning of this week? The children have been learning about how to carefully take care of them by keeping the water clear and a warm (ish) temperature and feeding them algae once every week once they've hatched. They have been very involved in observing changes they've seen in the tank and are curious to see what how they'll look and act once they've matured! 
REMINDER: P.E days for Reception Class is Friday.
Click/tap an image for a gallery view
YEAR 1 & YEAR 2
We have had a fantastic two-week topic in Geography, looking at the River Wey and creating some fact files.
The children have enjoyed learning about the different wildlife and features of the river. We have also learned all about the navigation systems and they were fascinated about how a lock works.
Reminder: PE days for Year 1 is Monday and Year 2 is Tuesday.
Click/tap an image for a gallery view
YEAR 3 & YEAR 4
On Tuesday morning, Year 3 braved the torrential rain to walk to RGS to meet best selling author, Maz Evans. She gave a lively and humorous talk about the inspiration for her books and gave a synopsis of the plots.  We were amazed to hear she spends a month planning a book, a month writing it but then a whopping six to nine months editing it!
Both Year 3 and Year 4 have been working hard writing non-chronological reports about India.  We used mindmaps with a partner to plan the different paragraphs and subheadings.  We will make sure we spend time editing them just like Maz Evans does with her books!
Reminders: PE on Wednesday (outside) & Thursday indoors (shorts and t-shirts will also be needed)
Year 4 String Scheme takes place every Friday, please ensure all instruments are in school.
Click/tap an image for a gallery view
YEAR 5 & YEAR 6
Year 5 and 6 filmed their finished sea shanties after writing, performing and practising over the last few weeks!
They were delighted with their performances and have shared them as a class on seesaw.  There were some impromptu trombone accompaniments and the more musical amongst the classes really got to grips with beat, timings and rhythm.
REMINDER: P.E. days for Year 5 is Tuesday and Wednesday and Year 6 is Tuesday & Thursday.
Click/tap an image for a gallery view
December

2023

Mon
Tue
Wed
Thu
Fri
Sat
Sun

1

Mufti Day - bring wine & chocolates for the fair

Morning Club with Miss Campbell-Bell

Home Club with Planet Soccer

Planet Soccer Creators Club - Years R, 1 & 2

Winter Fair - PTA Event

• • • • •

4

Morning Club with Mrs Donnithorne

Ahora Spanish Club KS2

Home Club with Planet Soccer

Lion Rock Kids - Science Club Years 1 to 4

• • • •

5

Morning Club with Mrs Parker

Christmas Concert _ Year 4 String Scheme End of Term Concert

Home Club with Planet Soccer

Homework Club (Invitation Only)

Planet Soccer - Street Football KS2

Planet Soccer Creators Club - Years R, 1 & 2

RGS Chess Club for KS2

• • • • • • •

6

Morning Club with Mrs March

Home Club with Planet Soccer

Lion Rock Kids - Art & Craft Club Years 1 to 4

Planet Soccer - Dodgeball KS2

Planet Soccer Creators Club - Years R, 1 & 2

• • • • •

7

Morning Club with Mrs Davey

Tae Kwon-Do Club - Years 2 to 6

Rock Steady Music Lessons

Boogie Pumps Dance Club for Years R, 1 & 2

Home Club with Planet Soccer

Planet Soccer - Football - Years 1 & 2

Planet Soccer Creators Club - Years R, 1 & 2

• • • • • • •

8

Morning Club with Miss Campbell-Bell

Year 2 Visiting GHS to see The Snowman

Home Club with Planet Soccer

Planet Soccer Creators Club - Years R, 1 & 2

• • • •

11

Morning Club with Mrs Donnithorne

KS1 Nativity Performance

Ahora Spanish Club KS2

Home Club with Planet Soccer

• • • •

12

Morning Club with Mrs Parker

Home Club with Planet Soccer

Planet Soccer - Street Football KS2

Planet Soccer Creators Club - Years R, 1 & 2

• • • •

13

Christmas Jumper Day

Morning Club with Mrs March

Whole School Christmas Dinner

Home Club with Planet Soccer

Planet Soccer - Dodgeball KS2

Planet Soccer Creators Club - Years R, 1 & 2

• • • • • •

14

Morning Club with Mrs Davey

Tae Kwon-Do Club - Years 2 to 6

KS1 Nativity Performance

Rock Steady Music Lessons

Home Club with Planet Soccer

Planet Soccer - Football - Years 1 & 2

Planet Soccer Creators Club - Years R, 1 & 2

• • • • • • •

15

Morning Club with Miss Campbell-Bell

Home Club with Planet Soccer

Planet Soccer Creators Club - Years R, 1 & 2

• • •

18

Morning Club with Mrs Donnithorne

Home Club with Planet Soccer

• •

19

Morning Club with Mrs Parker

Winter Singalong!

Home Club with Planet Soccer

Planet Soccer Creators Club - Years R, 1 & 2

• • • •

20

End of the Autumn Term Today at 1:30pm

Mufti Day & Christmas Surprise!

Morning Club with Mrs March

• • •

21

Christmas Holidays - School is Closed to All Pupils

Planet Soccer Holiday Camp

• •

22

Christmas Holidays - School is Closed to All Pupils

Planet Soccer Holiday Camp

• •

23

Christmas Holidays - School is Closed to All Pupils

•

24

Christmas Holidays - School is Closed to All Pupils

•

25

Christmas Holidays - School is Closed to All Pupils

•

26

Christmas Holidays - School is Closed to All Pupils

•

27

Christmas Holidays - School is Closed to All Pupils

•

28

Christmas Holidays - School is Closed to All Pupils

•

29

Christmas Holidays - School is Closed to All Pupils

•

30

Christmas Holidays - School is Closed to All Pupils

•

31

Christmas Holidays - School is Closed to All Pupils

•