NEWSLETTER 21/10/2022
Thank you so much for all the kind gifts of food that families sent in for our Harvest Festival celebration on Wednesday.  It was very generous of you. A big thank you to members of the PTA who helped display the produce and then pack it up and transport it to our local food banks.  I know that people in the community will benefit hugely from your kindness.
Our Harvest assembly was a great success with the theme of colour.  Every year group represented a different colour and the children created their own poems, performance rap, pictures and facts all based on their chosen colour.  It was Reception Class's first time in assembly and they were amazing.  The children who shared their class poems did so with so much confidence.  Well done!
It was also the first time the choir performed their Harvest Song, which was wonderful.  An amazing performance by all, with harmonies, two part-singing and instrumental accompaniment!  A big thank you to Mrs Mason for co-ordinating our harvest assembly and Mrs Davey our musical director!
Introducing our New Ambassadors and Tour Guides.
Well done to all those children in Year 6 who stepped up to apply for the position of ambassador.  The selection process was robust.  An application form, interview and a performance in assembly were all part of the process.
Our Ambassadors for this academic year are Abeera, Nadiya, Kimberley, Olivia, George-Marie, Holly, Senuthi, Olwen, Viktor, Mathias and Adolfo. Our tour guides will be Annie, Poppy, Chessia, Ben, Hector, Ethan and Reuben.
I look forward to working with them all after half term, when our open days and tours with prospective parents begin.
The Junior Leadership Team Results!
Voting has now taken place and a huge well done to all those children in KS2 who produced their manifestos and made their presentations so confidently this week.  It was a very close run battle, and our Junior Leadership Team for this year are:
Year 3: Eva and Amelia
Year 4: Samuel and Connie
Year 5: Sebastian and George
Year 6: Holly, Kimberley, George-Marie and Olwen
Wishing you all a happy and restful half term!
Kind regards
Mrs Collins and The Sandfield Team
Children in Celebration Assembly this week were:
Year R: Will be joining us later in the term
Year 1: No certificates awarded this week due to school trip
Year 2: No certificates awarded this week due to school trip
Year 3: Leo and Isaac
Year 4: Anes and Tom
Year 5: Reegan and Filip
Year 6: Senuthi and Adolfo
The school target for this year 2022-2023 has been set by the Surrey County Council Inclusion Team and is 97%
This week the whole school achieved 92.8%.
NEWS FROM THE INCLUSION TEAM
Courses and Workshops for Parents
There are lots of courses and workshops on offer to all parents, carers and families this term.  To see what is on offer, including free cookery classes and supporting your child with reading from Surrey Family Learning, please click here>> 
Reminders
We have produced a useful handout regarding Open Days and Evenings for applying for a place in a Secondary school. Please click here>>
Warmth Matters: Surrey Community Action has produced a useful guide to staying warm and healthy and saving money.  For further information, please click here>>
Guildford Lions Fireworks Competition
Guildford Lions are offering a chance for a family, free tickets to our Guildford Lions annual Fireworks Fiesta at Stoke Park, Guildford on November 5th by painting or drawing their most memorable Fireworks night.  At the event itself, there will be plenty of entertainment for the children within a family area that will feature children's funfair rides, a spectacular fire display ahead of the main fireworks display itself, a face painter and opportunities to purchase glow sticks etc.  There will be plenty of hot and cold food available, (some offering children's portions) plus hot and cold drinks and a bar for adults.
As always the Lions Fireworks Fiesta is a charitable event with ALL profits being used to help those in need in our community.  They also support the school very generously with donations towards residential trips etc.
The Lions have organised a free colouring competition, full details below and online: https://guildfordlions.com/fireworks-fiesta-2022/
THE COLOURING COMPETITION
This year's competition is open to all children aged 16 and under with prizes awarded in three ages categories
six years old and under

seven to eleven years old

twelve to sixteen years old

Winners and runners up in each category will each receive free family tickets to the event • Winners will also receive a £20 Biddles of Guildford voucher https://biddlesonline.co.uk .

The competition closes on October 26th and entries will be judged by our President.

The lucky winners will be announced on October 30th and will be contacted by email to check how many tickets are required.
If the winners have already purchased tickets we will, of course, fully reimburse them.
Entry to the competition is easy
Paint or draw a picture with the theme 'A Memorable Fireworks night '

Please clearly PRINT the FIRST NAME and AGE of the child on the front of the picture · Take a photograph of the picture, The photos should be in a landscape format, in either Jpeg or png format and no larger than 10MB please · Please then visit our Website https://guildfordlions.com/fireworks-fiesta-2022/ and complete the entry form, upload the photograph and then click on the submit button

You will receive a confirmation email from us

Please note that at our discretion photos will then be displayed on our website and/or social media

The closing date for entries is October 26th
SPORTS FIXTURES AND NEWS AT SANDFIELD
Confirmed Sports Events
Please ensure that consent forms for squad members are completed as soon as possible.  This helps us enormously with planning transport.
Many thanks, Coach Mohammed
Uniform: We are still being left with piles of unnamed uniform every day.  Please be aware that  from Monday 31st October, all unnamed items will be put in the KS1 office and if it is unclaimed by the end of the week, all items will be sent to charity, or if it is branded and in good condition, will go towards the 2nd hand uniform sale.
Please, please can we ask that parents and carers name everything over half term to avoid this extra job every day. This includes coats, gloves, hats, scarves, shoes, trainers as well as daily uniform.
Many thanks for your continued support.
REMINDERS!
October Half Term Holiday Camp: Sport4Kids will be running the holiday camp during the October Half Term as usual.  All parents of Sandfield Primary School are eligible for an additional 10% OFF our full-priced camps - below is a digital leaflet with details on how to claim this offer and also a direct booking link.
Secondary School Applications:  The deadline for all online applications for Secondary School admissions is Monday 31st October 2022. To make an application please click here>>
Parent-to-School Communication: Please can we remind all our new families to sign up to the Studybugs App as soon as possible so that no-one misses any vital information  We are currently on 99% sign-up, but need 100%!  There is a link on the Parents section of our website.
Please check the calendar at the end of this newsletter for club information and important dates.
MESSAGE FROM THE SANDFIELD PTA

PTA Committee:  We urgently need the following for the Committee for the PTA:
3 Trustees: this is a low-maintenance role which is mostly administrative.
Co-Treasurer: to work alongside Esmat (Cyrus's and Lockhart's mum).
Secretary: mainly administrative, minute taking etc.
Please let Mrs Collins know if you would like to discuss any of these vital roles further or would like to volunteer!
Sandfield PTA AGM: Thursday 3rd November 2022 at 3:45pm in the school library. All parents and carers are very welcome! If you are interested in any of the above roles or have any other ideas, please email Sandfieldschoolpta@gmail.com, or catch Emma and Nick at school.
Christmas Cards and Tea Towels: We apologise for mentioning Christmas so early(!) but we're happy to tell you that this year the children will be designing their own Christmas (or seasonal) cards that you can buy, to send to friends & family. Not only are these very personal (and beautifully designed) but they also raise valuable funds for Sandfield, which are invested back into the children's education and wellbeing.
From Monday 17th October, in school, your children will start designing their own cards. Further information on how to buy the wonderful creations to follow in due course. We hope you will love them!
Our next fundraising event is the Christmas Fair on 3rd December.  We will need lots of help organising this very popular event, please let your Class Rep know if you can help.
Many thanks
Sandfield PTA
COMMUNITY NEWS AND EVENTS
NEWS FROM THE CLASSROOMS!
RECEPTION CLASS
Reception explored emotions with the monsters from The Colour Monster book. They became the different monsters and discussed how it feels to be: happy, sad, angry, calm and nervous or timid. In circle time, they shared times when they have felt each of those emotions. They had so much fun using sound buttons to record sound clips of what someone might say when they're feeling each emotion. In independent writing, the children drew expressions on their own monsters and found the correct emotion from a word bank, using sounds they've learnt to help them.  
In maths, the children dove into the idea of comparing amounts, capacity and mass using mathematic vocabulary. They compared capacity and volume by making different 'Monster Milkshakes' in the water tray. Using scales, they weighted different natural objects to compare mass.  
In art, the children painted monsters on ice! They loved painting on a different surface. We carefully observed the ice melting and the colours mixing as they painted. They also enjoyed feeling the cold, slippery surface of the paint afterwards. 
The children have had a fantastic first half term in 'big school'. They have come on so much in these past seven weeks and they should all be very proud of themselves!  
REMINDER: P.E days for Reception Class is Friday.
YEAR 1 & YEAR 2
We have had a fantastic week in Year 1 and Year 2 this week.
In Year 2 we had an amazing 2-day poetry discovery experience around the library looking at different types of poems. In groups we chose our favourite poem and then shared it with the rest of the class.
In Year 1, we painted our fireworks using different tools and plenty of glitter, which inspired us to write our fantastic firework poems!
Reminder: PE days for Year 1 is Monday and Year 2 is Tuesday.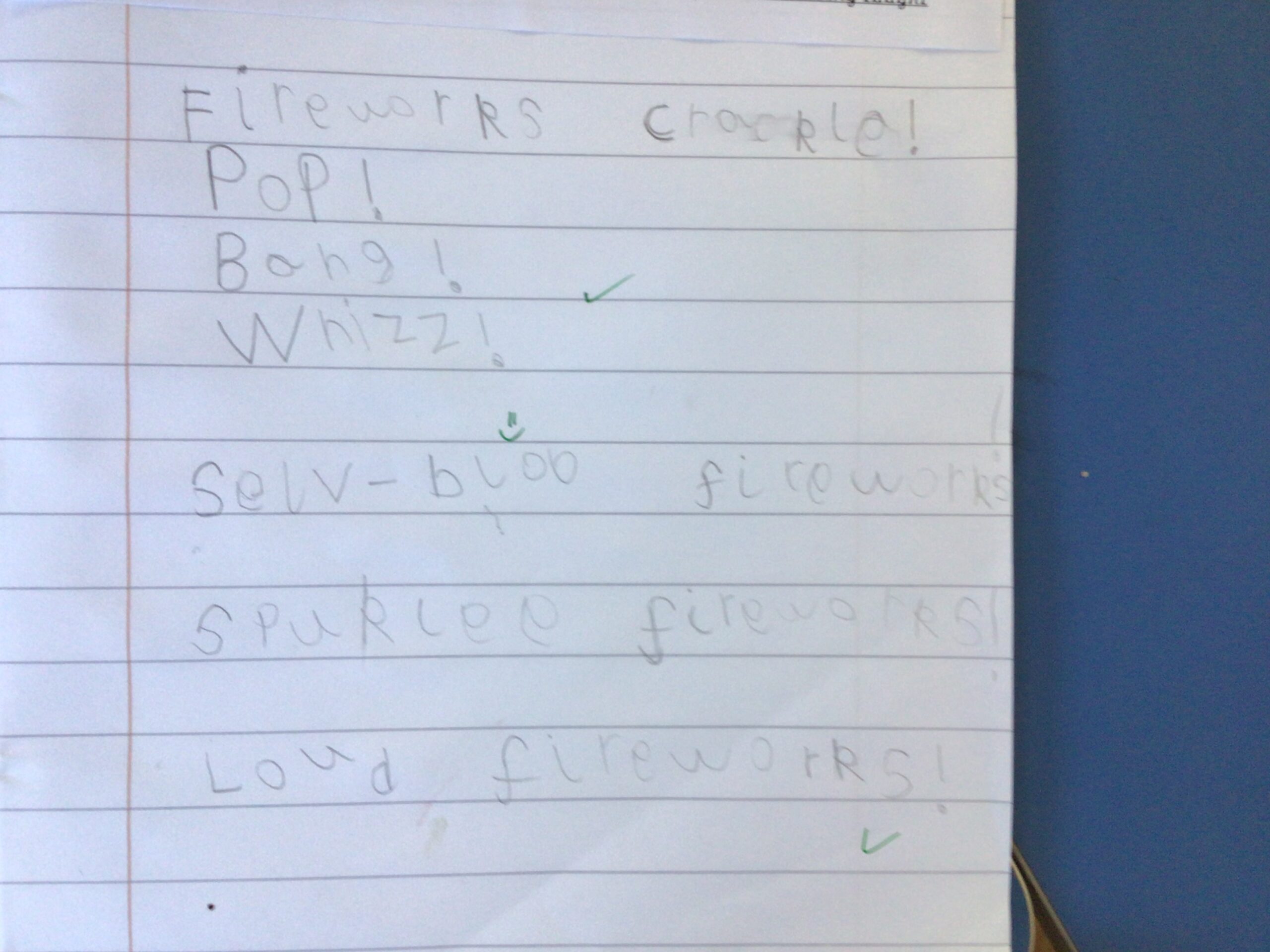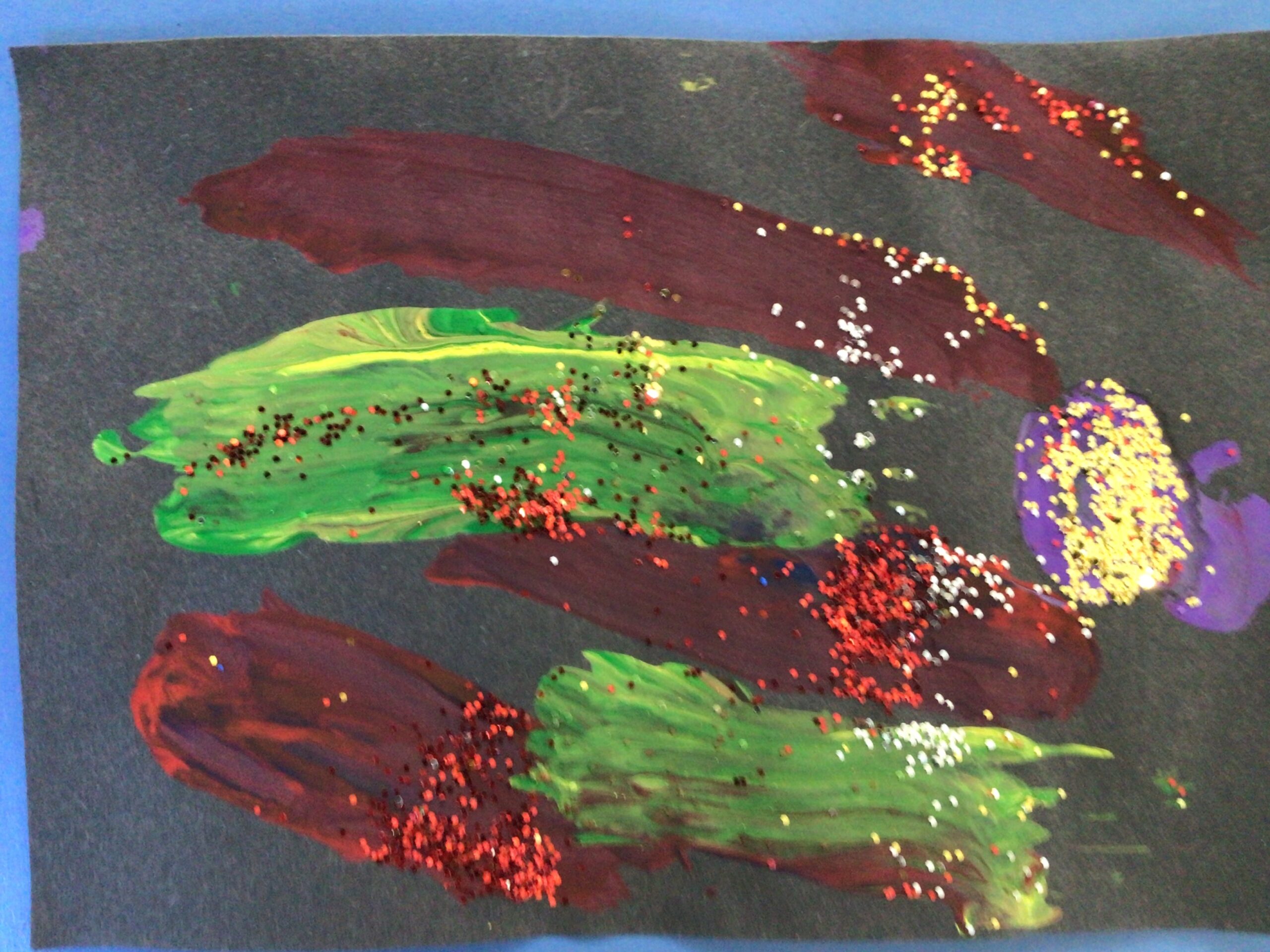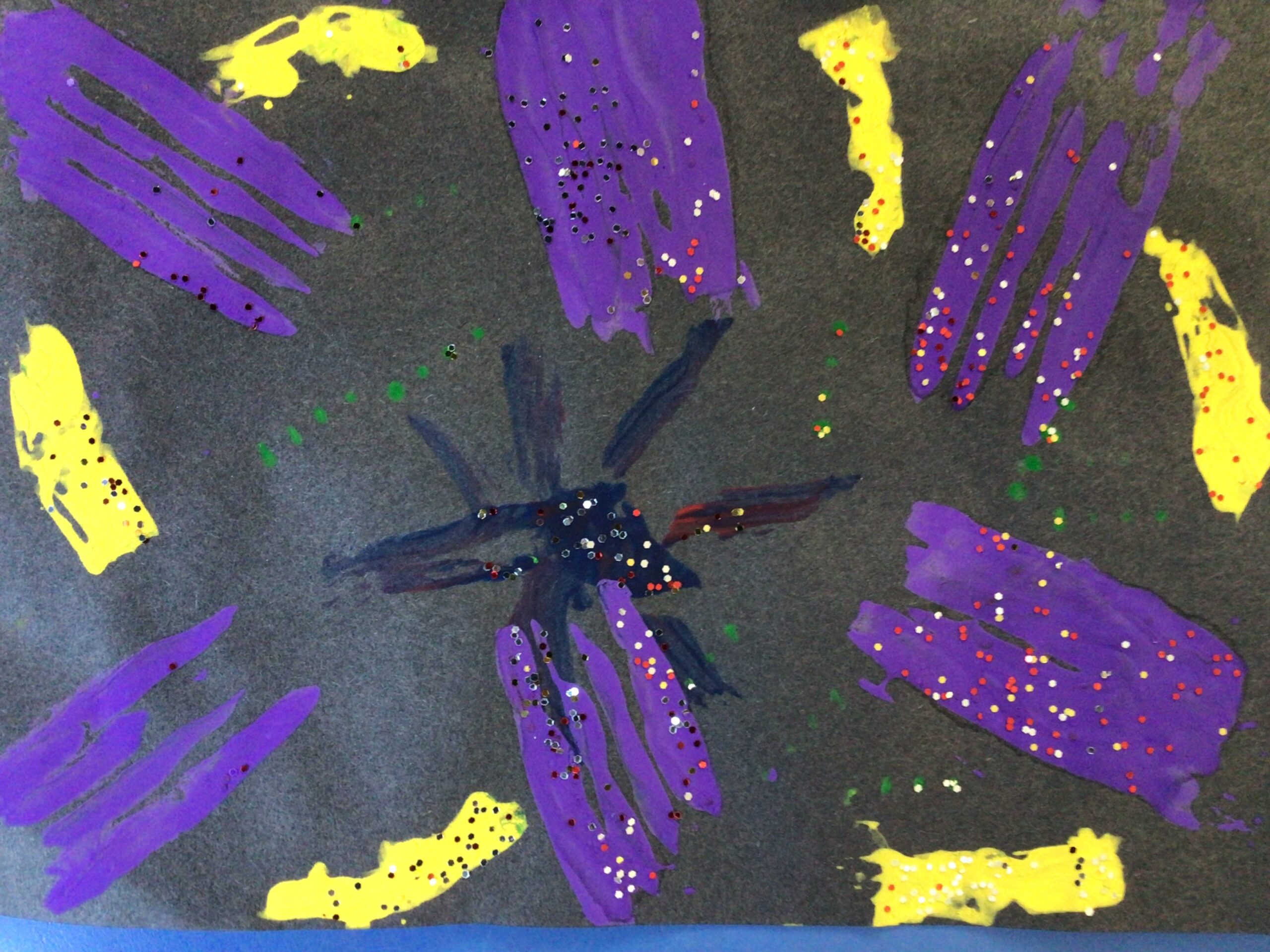 YEAR 3 & YEAR 4
Over the past few weeks we have been practising different balances and ways of travelling in our Gymnastics sessions.  We are able to link movements together to make a sequence and we are very proud of our partner work. 
In English we have finished the story of 'Cinnamon' where the main characters are a blind girl and a tiger.  We used similes to make poetic phrases and then finished the week writing a poem about a tiger.  We are going to publish our poems after half term so be sure to read the newsletter again to see them! 
Reminders: PE on Wednesday (outside) & Thursday indoors (shorts and t-shirts will also be needed)
Year 4 String Scheme takes place every Friday, please ensure all instruments are in school.
YEAR 5 & YEAR 6
Year 5 and Year 6 have had voting fever this week.
JLT candidates have been presenting their manifestos and trying to sway the polls in their favour. The voting booth is up and ready for the children to make their mark on the ballot slip. Election results are due on Friday morning in assembly.
Year 6 have also applied for the ambassadorial squad and the successful candidates have now been interviewed and appointed by Mrs Collins!
REMINDER: P.E. days for Year 5 is Tuesday and Wednesday and Year 6 is Tuesday & Thursday.
December

2023

Mon
Tue
Wed
Thu
Fri
Sat
Sun

1

Mufti Day - bring wine & chocolates for the fair

Morning Club with Miss Campbell-Bell

Home Club with Planet Soccer

Planet Soccer Creators Club - Years R, 1 & 2

Winter Fair - PTA Event

• • • • •

4

Morning Club with Mrs Donnithorne

Ahora Spanish Club KS2

Home Club with Planet Soccer

Lion Rock Kids - Science Club Years 1 to 4

• • • •

5

Morning Club with Mrs Parker

Christmas Concert _ Year 4 String Scheme End of Term Concert

Home Club with Planet Soccer

Homework Club (Invitation Only)

Planet Soccer - Street Football KS2

Planet Soccer Creators Club - Years R, 1 & 2

RGS Chess Club for KS2

• • • • • • •

6

Morning Club with Mrs March

Home Club with Planet Soccer

Lion Rock Kids - Art & Craft Club Years 1 to 4

Planet Soccer - Dodgeball KS2

Planet Soccer Creators Club - Years R, 1 & 2

• • • • •

7

Morning Club with Mrs Davey

Tae Kwon-Do Club - Years 2 to 6

Rock Steady Music Lessons

Boogie Pumps Dance Club for Years R, 1 & 2

Home Club with Planet Soccer

Planet Soccer - Football - Years 1 & 2

Planet Soccer Creators Club - Years R, 1 & 2

• • • • • • •

8

Morning Club with Miss Campbell-Bell

Year 2 Visiting GHS to see The Snowman

Home Club with Planet Soccer

Planet Soccer Creators Club - Years R, 1 & 2

• • • •

11

Morning Club with Mrs Donnithorne

KS1 Nativity Performance

Ahora Spanish Club KS2

Home Club with Planet Soccer

• • • •

12

Morning Club with Mrs Parker

Home Club with Planet Soccer

Planet Soccer - Street Football KS2

Planet Soccer Creators Club - Years R, 1 & 2

• • • •

13

Christmas Jumper Day

Morning Club with Mrs March

Whole School Christmas Dinner

Home Club with Planet Soccer

Planet Soccer - Dodgeball KS2

Planet Soccer Creators Club - Years R, 1 & 2

• • • • • •

14

Morning Club with Mrs Davey

Tae Kwon-Do Club - Years 2 to 6

KS1 Nativity Performance

Rock Steady Music Lessons

Home Club with Planet Soccer

Planet Soccer - Football - Years 1 & 2

Planet Soccer Creators Club - Years R, 1 & 2

• • • • • • •

15

Morning Club with Miss Campbell-Bell

Home Club with Planet Soccer

Planet Soccer Creators Club - Years R, 1 & 2

• • •

18

Morning Club with Mrs Donnithorne

Home Club with Planet Soccer

• •

19

Morning Club with Mrs Parker

Winter Singalong!

Home Club with Planet Soccer

Planet Soccer Creators Club - Years R, 1 & 2

• • • •

20

End of the Autumn Term Today at 1:30pm

Mufti Day & Christmas Surprise!

Morning Club with Mrs March

• • •

21

Christmas Holidays - School is Closed to All Pupils

Planet Soccer Holiday Camp

• •

22

Christmas Holidays - School is Closed to All Pupils

Planet Soccer Holiday Camp

• •

23

Christmas Holidays - School is Closed to All Pupils

•

24

Christmas Holidays - School is Closed to All Pupils

•

25

Christmas Holidays - School is Closed to All Pupils

•

26

Christmas Holidays - School is Closed to All Pupils

•

27

Christmas Holidays - School is Closed to All Pupils

•

28

Christmas Holidays - School is Closed to All Pupils

•

29

Christmas Holidays - School is Closed to All Pupils

•

30

Christmas Holidays - School is Closed to All Pupils

•

31

Christmas Holidays - School is Closed to All Pupils

•